Tata Steel bids for Corus acquisition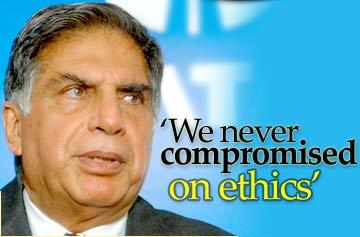 Jan 31 2007 :
Tata Steel
is set to become the world's fifth-biggest steelmaker after winning a bid battle for Anglo-Dutch steelmaker Corus Group by agreeing to pay 6.2 billion pounds ($12 billion).
Britain's Takeover Panel said in an e-mailed statement that after an auction Tata Steel had agreed to offer Corus investors 608 pence per share in cash, topping a final bid of 603 pence from Brazilian Companhia Siderurgica Nacional (CSN).
Both offers were right at the top end of what analysts had thought possible and will now be put to Corus investors, who have no reason not to accept the higher price.
Corus was not immediately available for comment.
The auction process, following a takeover tussle that began in earnest when Tata Steel offered 455 pence per share on Oct.
20, started at the close of trading in London on Tuesday when Corus shares ended 0.5 percent higher at 563 pence. CSN and Tata Steel were keen to buy Corus to become significant players in the consolidating steel industry, where Dutch-based Mittal Steel last year bought Luxembourg's Arcelor to create the world's biggest steelmaker, Arcelor Mittal.
The 608 pence Tata Steel is set to pay values Corus at around seven times its forecast earnings before interest, tax, depreciation and amortisation (EBITDA) for 2006, well above the multiple Mittal Steel paid for Arcelor which was 4.6 times historic EBITDA.
Ahead of the auction, called last week by the Takeover Panel to bring the bid battle to an end, CSN had the upper hand after it had made a bid worth 4.9 billion pounds ($9.6 billion) or 515 pence per share, accepted by Corus on Dec. 11, hours after it had accepted a 500 pence offer from Tata Steel.
The battle pushed Corus's share price to seven-year highs and pitted 70-year-old Tata group chairman Ratan Tata, from one of India's best-known business families, against Benjamin Steinbruch who at 52 is one of Brazil's most famous executives as chief executive and main owner of CSN.
Ratan Tata has transformed the once-staid Tata group since taking over as chairman in 1991. He has cut the number of companies in the group from over 300, and acquired new businesses with growth potential.
Tata Steel has spent more than $400 million in recent years to buy Singapore's NatSteel and Thailand's Millennium Steel, and other group companies have also made acquisitions outside India.
On Oct 17 2006 Tata Steel announced that it had made a ten billion dollars acquisition offer to Corus Group Plc, the largest steel maker of the UK.
In a statement, the company said it had made an ''indicative non -binding offer to acquire 100 per cent equity'' in Corus Group Plc and discussions in this regard were on with the Borad and Management of the UK company.
Labels: breaking news, international, others